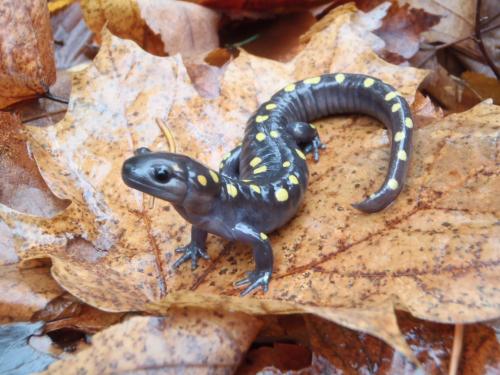 Posted on May 28, 2015 by Brandon Schroeder, Michigan State University Extension, Michigan Sea Grant; and Meaghan Gass, Huron Pines AmeriCorps
---
A spring walk in the woods may lead you to one of Michigan's more common but lesser known wetlands – a vernal pool. These seasonal or temporary wetlands are often small in nature yet significant in ecological value. Wet in the spring, vernal pools characteristically dry up as summer progresses. In fact, those exploring woodlands late in the summer may trek through a vernal pool without realizing they passed through this important wetland ecosystem.
As the snow of winter melts giving way to spring, these wetlands fill with water and explode with life. Scientists of Michigan Natural Features Inventory (MNFI)and Michigan State University Extension study the ecology of these vernal pools during this small window of time each spring. Yet this can be a challenge to visit large numbers of vernal pools each spring when life is most active but before these seasonal wetlands dry up. Launching a new Vernal Pool Patrol Project aimed at schools and youth, these researchers are calling on our youngest citizen scientists to help collect and report data in these vernal pools across northern Michigan.
Contributing as part of a statewide vernal pool mapping and monitoring project with MNFI, teachers from ten northern Michigan schools gathered this past April to learn how to involve their students as Vernal Pool Patrol partners. This place-based stewardship education training connected teachers with MNFI scientists to learn about vernal pool ecology, exploring firsthand the biodiversity of plants and animals living within vernal pools. This great professional learning opportunity for educators is supported by the Northeast Michigan Great Lakes Stewardship Initiative and Grand Traverse Stewardship Initiative networks, including U.S. Fish and Wildlife Service, Huron Pines, 4-H Youth Programs, Michigan Sea Grant, among other partners.
Little is known about vernal pools in Michigan, but they are widely recognized among scientists for their important ecological value. Rich in biodiversity, vernal pools have been called the 'coral reefs' of our forests, home to some species that only exist in vernal pools. For example, fairy shrimp (tiny, bright orange crustaceans) only occur in vernal pools since their eggs have to dry and freeze before they can hatch each spring. Other species, such as the wood frog, spotted salamander and blue spotted salamander, excel in vernal pools because these habitats lack predatory fish that would eat their eggs and larvae. In addition, many plants grow within and around vernal pools and can provide clues that these pools were once full of water even during their dry phase. In the northeast U.S., vernal pools are home to some 550-700 species of plants and animals, including many rare species. These ecologically rich wetlands also function to improve water quality, help recharge ground water, store water and provide flood control, and serve as nutrient sinks (where organic matter collects and decomposes)...
To read the complete news article, click here!
More Information:
4-H Youth Development Program, MSU Extension
,
Gaylord High School
,
Huron Pines
,
Huron Pines AmeriCorps
,
Inland Lakes Secondary School
,
Michigan Sea Grant
,
Northeast Michigan Great Lakes Stewardship Initiative
,
Onaway Area High School
,
Rogers City Middle School
,
Thunder Bay Junior High
,
Vernal Pool Patrol Project
Created on Thursday, June 11, 2015