About Us
Building Express - The Home of Air-Tite Insulation of Alpena, MI provides quality, reliable, and affordable insulation services. We are licensed, insured, and certified installers that specialize in Tripolymer (injectable and spray) foam insulation, cellulose insulation, and fiberglass insulation. Our Air-Tite Insulation process could reduce energy lost, eliminate drafts, reduce excessive noise, and improve indoor air quality. Our product is an improvement that pays for itself, so give us a call.
Drywall
Ceiling systems
Spray foam insulation
Steel studs
EIFs
Tools
Bulk landscaping materials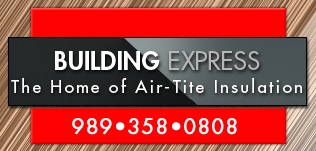 Building Express, Inc.
4170 US 23 South
Alpena, MI 49707
Projects
| | | | |
| --- | --- | --- | --- |
| | | Info | |
| | 6th Grade students utilize the school's Outdoor Education Site to learn about the diverse ecosystem near their school and have a positive impact on the creek habitat through environmentally conscious management | Info | |
Other Partnerships
Building Express partnered with Alpena High School by donating landscaping stones to outline multiple native plantings on the Outdoor Education Site.