Mission
Our mission is to collect, preserve, interpret, and exhibit authentic articles and artifacts of art, history, and science to inspire curiosity, foster community pride, and cultivate personal legacy. The Besser Museum is dedicated to serving the public of all ages and abilities.
About Us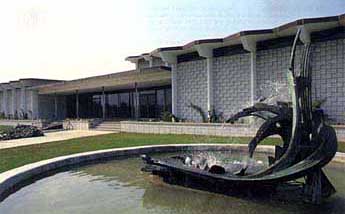 Besser Museum for Northeast Michigan is an educational institution dedicated to providing the public with enriching cultural experiences in art, history and science. The Museum's eight-acre campus offers a modern 42,000 square foot facility containing a collection of over 47,000 artifacts. The Museum houses a full dome planetarium and a two-story Foucault pendulum. Besser Museum also offers the unique opportunity to dig and keep all the Devonian period fossils you find in our outdoor Lafarge Fossil Park exhibit.
Besser Museum art exhibits rotate through an extensive collection of fine art with works from local, regional, national, and world renowned artists such as Dali, Cezanne, Renoir, Picasso, Warhol, Rivera, Chihuly, Clewell and more!
If history is more your liking, the following exhibits may be of interest:
The Museum's 1890's Avenue of Shops

The Historic Village with five original structures, each over 100 years old

Jesse Besser and the Besser Company exhibit

The 1911 Alpena Flyer vehicle and the Alpena Motor Car Company exhibit

Peoples of Lakes and Forests exhibit with prehistoric and Native American artifacts

Exhibits in the Natural Wildlife Gallery, located in the museum's lower level, features native and non-native Michigan Great Lakes fish, a variety of flora and fauna of Northeast Michigan, and mounted species from around the world.
Besser Museum for Northeast Michigan
491 Johnson Street
Alpena, MI 49707
Projects
| | | | |
| --- | --- | --- | --- |
| | Creating a culture of conservation at the school while raising community awareness | Info | |
| | Students will collect the oral histories, help preserve artifacts, and help develop an educational exhibit to encourage stewardship and preservation of the Lake Huron fishery. | Info | |
| | High school and elementary students bring awareness to the amazing geology of northeast Michigan. | Info | |
| | Science in the Sanctuary students collect stories from northern Lake Huron communities to contribute to the Great Lakes Maritime Heritage Trail website | Info | |
| | A great location for students to explore the history and time periods of the earth through the geological remains found here. | Info | |
| | Preserving and Raising Awareness about Alpena's History in the Automotive Industry | Info | |
News
Tuesday, August 22, 2017
Wednesday, December 21, 2016
Wednesday, December 14, 2016
Sunday, October 6, 2013
Friday, October 4, 2013
Friday, August 2, 2013
Sunday, July 14, 2013
Monday, April 15, 2013
Monday, July 2, 2012