About Us
The Hammond Bay Area Anglers Association (HBAAA) was organized in the early 1980s because of the increasing Tribal gill net fishing in Hammond Bay and Northern Lake Huron. The charter members of HBAAA were concerned that this fishing effort could lead to the loss of a valuable economic and recreational resource for Presque Isle, Cheboygan and Alpena Counties, as well as the State of Michigan. The goal of the Hammond Bay Area Anglers Association was the development of an Agreement that would allow the commercial and recreational fisheries to effectively coexist.

From shortly after the Fox Court ruling declaring that the Lake Huron waters were not settled, through the negotiations leading to the signing of the 2000 Great Lakes Consent Agreement, HBAAA members have been representing the interests of recreational sport fishing in Northeast Michigan. HBAAA has raised over $100,000 to ensure that all anglers have the opportunity to enjoy safe and productive days of fishing on Northern Lake Huron and the near-by inland waters.

Hammond Bay Area Anglers Association, along with the Grand Traverse Area Sportfishing Association were charter members of the Michigan Fisheries Resource Conservation Coalition (formerly Michigan Fisheries Conservation Coalition), which formed as the Great Lakes negotiations were beginning. From these original two members, the Coalition has grown to the 10 member Coalition with the goal of protecting the resources of our great State. In addition to being present during the 2000 Great Lakes Fishing Agreement, Coalition members were present and participated as the State, United States and Tribes negotiated the Inland Hunting, Gathering and Fishing Agreement. The HBAAA continues to be an active member of the Coalition to Protect Michigan Resources to ensure that both the Inland and Great Lakes Agreements are fairly implemented.
To learn more about Hammond Bay Area Anglers Association please visit our website: http://hbanglers.org/index.html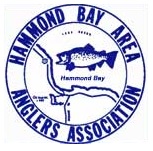 Hammond Bay Area Anglers Association
12748 Wildcat Highway
Millersburg, MI 49759
Projects
| | | | |
| --- | --- | --- | --- |
| | Raising Lake Sturgeon, Chinook Salmon, and Lake Trout in the classroom to help our fisheries! | Info | |
| | | Info | |
News
Wednesday, April 1, 2015