Youth at Alcona Elementary made caterpillars while learning about pollinators as part of their pollinator garden project.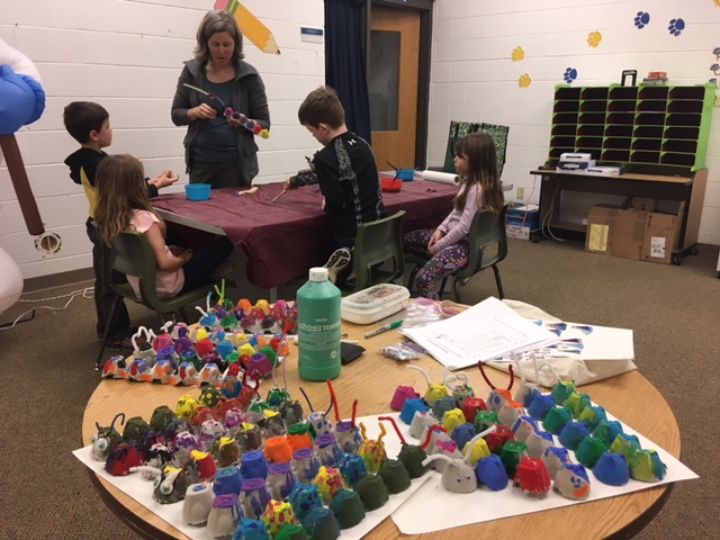 Why engage youth in art to explore science? Recent research indicates that art opens doors in science for many students. In art, there is no right or wrong, just creativity and curiosity. Most science and engineering begins with curiosity and creativity. Art in science is one way to help ensure both creativity and curiosity are nurtured.
Art in science might provide upper-elementary students, who were still concrete thinkers, with a powerful means of envisioning phenomena that they could not directly observe. It can also help strengthen observation skills in young scientists. Engaging in art to make caterpillars and explore pollinator gardens is just one way to connect science and art.
Engaging youth in science
Begin engaging youth in discussing pollinators by asking youth what makes an animal a pollinator?
Ask youth to give some examples of pollinators, such as beetles, bees, butterflies, other insects, birds and in some areas bats.
Ask youth if caterpillars are important to a pollinator garden and why or why not.
Help youth to understand that while caterpillars are not the life stage that pollinates flowers, they are a part of the life cycle (egg, larva, pupa and adult) of butterflies. Butterflies are pollinators when they are in the adult stage of their life.
Engaging youth in science through art
Talk with students about how caterpillars come in many different colors and how they will use their creativity to design a caterpillar model. Use paperboard egg cartons cut in half as the frame of their caterpillar model. They can use any of the colors provided or mix colors to make some new colors. This is a great opportunity to discuss the primary colors and how to mix primary red, yellow and blue to make other colors. Provide brushes, sponges and Q-tips and allow youth time to create unique patterns, designs and even textures on their model caterpillar. Use chenille stems to add antenna, legs for bristles and allow time to dry.
Engaging in science through art was one way Michigan State University Extension helped youth prepare for spring pollinators and pollinator garden projects. For more ideas about exploring pollinators with youth, read "Students find winter is a perfect time to prepare for spring pollinator garden projects."
Michigan State University Extension and the Michigan 4-H Youth Development program help to create a community excited about STEM (Science, Technology, Engineering, and Mathematics). 4-H STEM programming seeks to increase science literacy, introducing youth to the experiential learning process that helps them to build problem-solving, critical-thinking and decision-making skills. Youth who participate in 4-H STEM are better equipped with critical life skills necessary for future success.
To learn more about the positive impact of Michigan 4-H youth in STEM literacy programs, read our 2017 Impact Report: "Equipping Young People for Success Through Science Literacy."
To learn more about MSU Extension, visit the MSU Extension website. To learn more about 4-H and Extension opportunities in Alcona County, stop by our Harrisville office at 320 S. State St. Harrisville, MI 48740, or visit us online at our Alcona County MSU Extension Facebook page or Alcona County Extension office page.
Created on Thursday, April 23, 2020