Engaging youth in planning and designing a pollinator garden can help them gain comfort with math.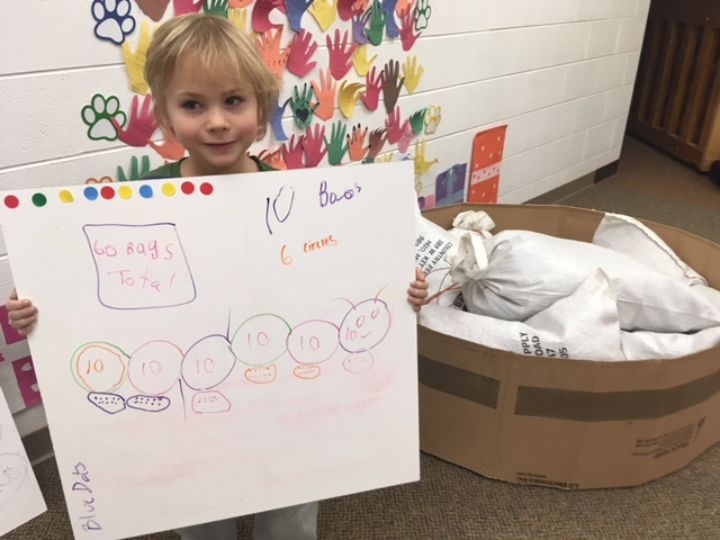 Why math?
Math is the language of science and an essential part of STEM (science, technology, engineering, and mathematics). However, it can often be confusing and frustrating for youth. Engaging youth in planning and designing a raised pollinator garden can be one way to help youth gain comfort with math.
Why a pollinator garden?
Ask youth to try to imagine a world without bees. Make a list of everything the youth ate in their last meal and identify those items that depended on pollination. Then, read together the first paragraph in "Factors that threaten pollinator health" from Michigan State University Extension. This article tells us that one reason for the decline in pollinators is habitat destruction. Youth and their families can help make a difference by planting a native wildflower pollinator garden right near their own home. Believe it or not, winter is actually the perfect time to get started planning a garden.
Why a raised garden?
A raised pollinator garden offers many advantages beyond opportunities to engage youth in mathematics. Raised gardens provide clearly defined boarders that make planning easier, a barrier to weeds and pests, and they can add visually appealing elements to your yard.
Opportunities to use math when planning and building a pollinator garden:
Deciding the size of the garden.

Use flour or string to layout your garden and make sure youth can reach all parts.

Calculating the materials needed to make the raised bed.

Consider making one side out of Plexiglas to let youth see what happens underground in the garden. Youth can even research the types of material that could be used.
Determining how much soil will be needed to fill the raised bed. Use the cardboard from old boxes to make a model of your raised bed. Find some old bags like feed sacks, fill them with leaves to model the bags of soil and determine how much soil you will need. Alcona County first graders had a great time applying math to calculate the soil they would need for the bookworm pollinator garden at the Alcona Library (see photos).

Deciding how many plants you will need.

Tape newspaper together to make the shape of the top of the garden and have youth use this to measure and draw the placement of the plants based on recommended planting distances. If you are planning on growing plants that are a variety of heights, draw rings (like a topographical map) on the paper.
For more ideas about exploring pollinators with youth, read "Students find winter is a perfect time to prepare for spring pollinator garden projects" and its linked articles.
Michigan State University Extension and the Michigan 4-H Youth Development program help to create a community excited about STEM (Science, Technology, Engineering, and Mathematics). 4-H STEM programming seeks to increase science literacy, introducing youth to the experiential learning process that helps them to build problem-solving, critical-thinking and decision-making skills. Youth who participate in 4-H STEM are better equipped with critical life skills necessary for future success.
To learn more about the positive impact of Michigan 4-H youth in STEM literacy programs, read our 2017 Impact Report: "Equipping Young People for Success Through Science Literacy."
To learn more about MSU Extension, visit the MSU Extension website. To learn more about 4-H and Extension opportunities in Alcona County, stop by our Harrisville office at 320 S. State St. Harrisville, MI 48740, or visit us online at our Alcona County MSU Extension Facebook page or Alcona County Extension office page.
Created on Thursday, April 23, 2020