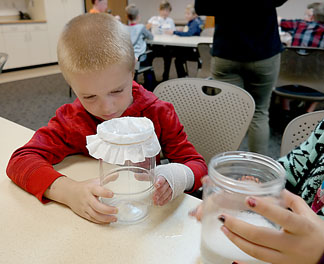 (Photo courtesy/Kaitlin Ryan)
September 22nd, 2018
By Kaitlin Ryan
ALPENA — Local students will be working on science and environmental programs in upcoming weeks through the Bay Watershed Education and Training (B-WET) Program, with the help of educational community partners.
The National Oceanic and Atmospheric Administration (NOAA) started the B-WET program started a partnership the Thundery Bay National Marine Sanctuary (TBNMS) for place-based learning.
The B-WET program is funded by grants that focus on "Meaningful Watershed Education Experiences (MWEEs)," and provides learning for students in kindergarten through 12th grade, while bringing together education and community partners. The Northeast Michigan Great Lakes Stewardship Initiative works with the sanctuary and the Jesse Besser Museum to provide onshore and offshore experiences for the students during B-WET.
Teachers who participate choose locally relevant issues for students to study that also align with the school curriculum...
Read the full article here.
Created on Tuesday, September 25, 2018