By Nicole Grulke - Syndicated Columnist, Alpena News
---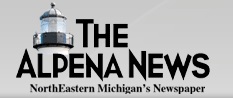 ALPENA - Students from around Michigan will have an opportunity to express their views on what water means to them during this year's Thunder Bay International Film Festival through the festival's first Junior Film Festival contest.
The competition is open to students from all over the state, with four winners to be announced during the festival January 2016. First, second and third place films, along with a people's choice film will be shown as part of the festival. Winning films will be selected by a committee of judges comprised of local community members, and will be selected based on an established rubric.
The theme of the student competition is "Water Is," and is meant to focus on what water means to the students creating the film. The focus can be on any way the filmmakers are connected to water, view water or use water every day, such as for commerce, business, life or recreation.
"This is the first student film competition to be held during the film festival," Meaghan Gass, Northeast Michigan Great Lakes Stewardship Initiative education coordinator, Huron Pines AmeriCorps, said. "Last year there was a production workshop held open to the public, but this will be the first year there is a separate competition for student films. We are excited to see the different levels of production from students and the different perspectives of the films. With the stewardship initiative, we strive to have a student voice in our projects and this is a great way to connect that voice and do something meaningful involving the students and their views on why water is important to them."
Students can enter as individuals and in teams, and are allowed to have an adult mentor, but the film must be student edited, student developed and student made. The competition is open to students in grades six through 12 from all around Michigan, and local students are encouraged to enter with their different themes and perspectives on the topic.
"We all need water to survive, and that water should be high-quality water," Gass said. "Michigan is surrounded by the largest fresh water system in the world, and students could choose to focus on that, or they could talk about how a person's life depends on water. This is also an opportunity for students to connect with their local watersheds and see how important water is to where they live."
The films can be up to 10 minutes in length, and can be submitted up until Jan. 8, 2016. The entries selected for the public to view will be shown as part of the Thunder Bay International Film Festival Jan. 31, 2016, from 1-3 p.m. during a free session open to the public.
For more information on how to get involved in the competition, or to learn more about the rules, visit the Thunder Bay National Marine Sanctuary website and Facebook page, or contact Gass at meaghan.nemiglsi@gmail.com, or call 356-8805 ext. 41. More information will become available regarding entries in mid November.
Nicole Grulke can be reached via email at ngrulke@thealpenanews.com or by phone at 358-5687. Follow Nicole on Twitter @ng_alpenanews.