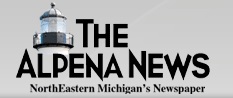 By: Nicole Grulke - News Staff Writer, The Alpena News
The Alpena News
- See more at: http://www.thealpenanews.com/page/content.detail/id/525879/Sanctuary-to-unveil-living-roof-project.html#sthash.8K73zmqH.dpuf
,
-

ALPENA - The Thunder Bay National Marine Sanctuary has been working on a unique project, but instead of working underwater, this project is on the roof. The sanctuary will be unveiling its Thunder Bay River Living Roof to the public later this summer, offering beautiful views of the Thunder Bay River from a unique setting.
The living roof is not only covered with native plant life, it is also energy efficient, with the white roof being much more efficient than the popular black covering on rooftops, reflecting heat and light, rather than absorbing it. The sanctuary also plans to install solar panels and devices to collect both wind and solar energy...
Click Here to read the full article published by The Alpena News.

The living roof is not only covered with native plant life, it is also energy efficient, with the white roof being much more efficient than the popular black covering on rooftops, reflecting heat and light, rather than absorbing it. The sanctuary also plans to install solar panels and devices to collect both wind and solar energy. - See more at: http://www.thealpenanews.com/page/content.detail/id/525879/Sanctuary-to-unveil-living-roof-project.html#sthash.8K73zmqH.dpuf
ALPENA - The Thunder Bay National Marine Sanctuary has been working on a unique project, but instead of working underwater, this project is on the roof. The sanctuary will be unveiling its Thunder Bay River Living Roof to the public later this summer, offering beautiful views of the Thunder Bay River from a unique setting. - See more at: http://www.thealpenanews.com/page/content.detail/id/525879/Sanctuary-to-unveil-living-roof-project.html#sthash.8K73zmqH.dpuf
ALPENA - The Thunder Bay National Marine Sanctuary has been working on a unique project, but instead of working underwater, this project is on the roof. The sanctuary will be unveiling its Thunder Bay River Living Roof to the public later this summer, offering beautiful views of the Thunder Bay River from a unique setting. - See more at: http://www.thealpenanews.com/page/content.detail/id/525879/Sanctuary-to-unveil-living-roof-project.html#sthash.8K73zmqH.dpuf
ALPENA - The Thunder Bay National Marine Sanctuary has been working on a unique project, but instead of working underwater, this project is on the roof. The sanctuary will be unveiling its Thunder Bay River Living Roof to the public later this summer, offering beautiful views of the Thunder Bay River from a unique setting. - See more at: http://www.thealpenanews.com/page/content.detail/id/525879/Sanctuary-to-unveil-living-roof-project.html#sthash.8K73zmqH.dpuf
ALPENA - The Thunder Bay National Marine Sanctuary has been working on a unique project, but instead of working underwater, this project is on the roof. The sanctuary will be unveiling its Thunder Bay River Living Roof to the public later this summer, offering beautiful views of the Thunder Bay River from a unique setting. - See more at: http://www.thealpenanews.com/page/content.detail/id/525879/Sanctuary-to-unveil-living-roof-project.html#sthash.8K73zmqH.dpuf
The Alpena News
- See more at: http://www.thealpenanews.com/page/content.detail/id/525879/Sanctuary-to-unveil-living-roof-project.html#sthash.8K73zmqH.dpuf
,
Created on Friday, June 28, 2013